Happy 2022 Cape Town Pride
Western Cape Provincial Parliament Speaker, Masizole Mnqasela wishes the LGBTQIA+ community a happy Pride weekend taking place in Cape Town from today, an annual event to raise awareness around the issues faced by the LGBTQIA+ community.
Speaker Mnqasela says: "South Africa is a global leader when it comes to the protection of the rights of its citizens, including the rights of people of all sexual orientations. Our Constitution decriminalised homosexuality and in 2006 it became legal for same sex couples to get married."
"Last year I launched our institution's tolerance logo, a symbol of interwoven and bound strands of various colours of rope, reflecting the values of the WCPP and conveys the sentiments supported in respect of anti-racism, anti-sexism, anti-gender-based violence, anti-discrimination, pro-respect, pro-justice, pro-equality and equity, pro-ethics and integrity, and pro-diversity. With this colourful symbol we also acknowledge that the LGBTQIA+ community still faces many challenges and prejudices on a daily basis and with this visible symbol we show our support to fighting for a truly inclusive South Africa. We need to work tirelessly and selflessly to guard jealously against any form of prejudice. We must leave behind a society that is much better than the one we found," Speaker Mnqasela added.
Image: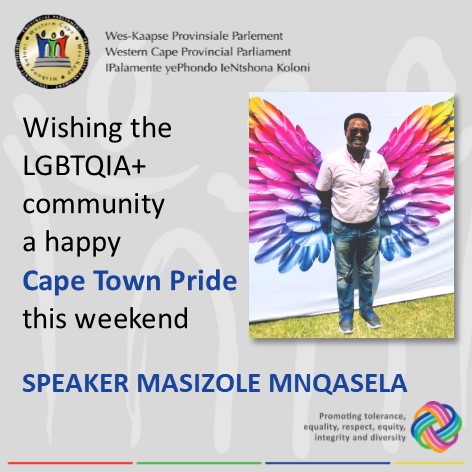 Feature on Home Page Carousel: