Thetha Nathi in the Cape Winelands District
The Speaker of the Western Cape Provincial Parliament (WCPP), Honourable Masizole Mnqasela, will host four sessions of the institution's public engagement programme, Thetha Nathi, in various areas in the Cape Winelands District from 19 to 22 July 2022, including:
• 19 July: Stellenbosch;
• 20 July: Paarl;
• 21 July: Worcester; and
• 22 July: Ashton.
Thetha Nathi, meaning "speak to us", seeks to enhance the work of the WCPP by creating an opportunity for Members of Parliament to interact with stakeholders in their respective constituencies. This will be the fourth round of Thetha Nathi with the programme having already visited the Garden Route and West Coast districts, and most recently the Cape Metro.
"We are well on track to ensure that the programme is systematically rolled out to cover all areas of our beautiful province," says Speaker Mnqasela.
After introductions by representatives from the relevant local authorities, Speaker Mnqasela will deliver a keynote address during which he will be highlighting the origins of the Thetha Nathi programme, with specific reference to the oversight role of the provincial parliament and the importance of providing a platform for communities to interact with elected public representatives of the Western Cape Provincial Parliament on key issues affecting communities.
To view the detailed programmes, click here: https://www.wcpp.gov.za/node/12816
Interactions will be by invitation only. Participants will include Members of Parliament, Mayors, Speakers of municipalities, councillors, government departments, community leaders and representatives of community-based organisations, among others.
Image: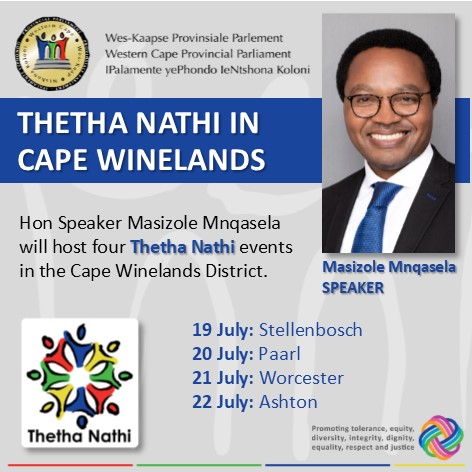 Feature on Home Page Carousel: