Nominations invited for position of Western Cape Commissioner for Children
Nominations are invited for the appointment of the Western Cape Commissioner for Children in terms of section 2(2)(a) of the Western Cape Commissioner for Children Act, 2019 (Act 2 of 2019).
The Commissioner is empowered in terms of the Act to monitor, investigate, research, and educate the public about, lobby for and advise on, matters pertaining to children in the Western Cape. Furthermore, the Commissioner must assist the Western Cape Government in protecting and promoting the interests of children in the province, in particular in relation to health services, education, welfare services, recreation and amenities, and sport. The Commissioner must also report to the Western Cape Provincial Parliament on measures taken by the Western Cape Government to protect and promote the interests of children in the province.
A copy of the Act, which contains details of the functions of the Commissioner for Children, and more information on the nomination process is available on Western Cape Provincial Parliament's website at www.wcpp.gov.za. The closing date for nominations is 30 September 2019.
Enquiries may be directed to the Procedural Officer, Ms Nomonde Jamce on Tel 021 487 1658 or Email njamce@wcpp.gov.za.
For media enquiries or interviews, contact the Chairperson of the Standing Committee on Community Development, Hon Gillion Bosman, on Cell 072 277 1422 or Email gillion.bosman@wcpp.gov.za.
Image: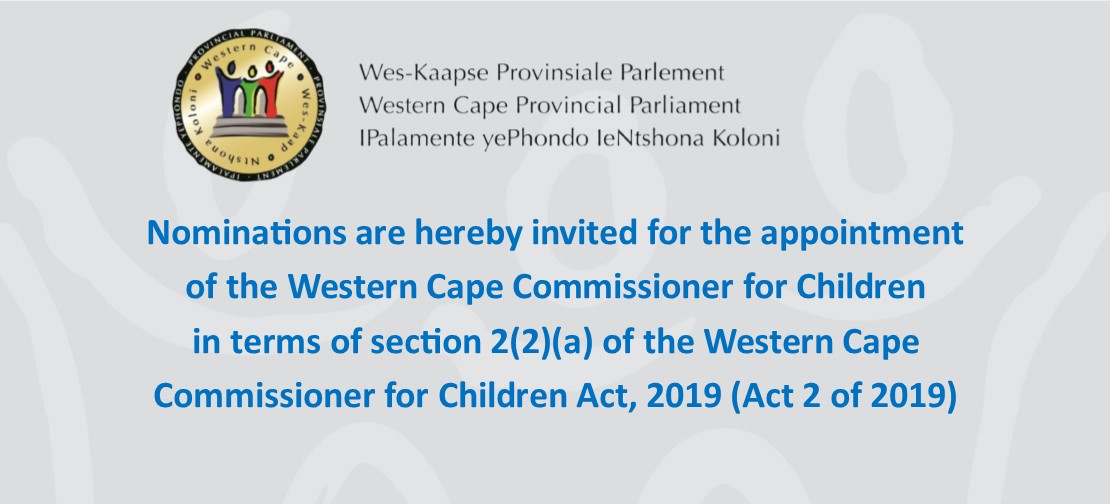 Feature on Home Page Carousel: