Public hearings on Traditional Courts Bill
The Western Cape Provincial Parliament's Standing Committee on the Premier and Constitutional Matters will conduct public hearings focusing on the Traditional Courts Bill [B 1B–2017] (NCOP) as part of its constitutional responsibilities.
The purpose of the Bill is to provide a uniform legislative framework for the structure and functioning of traditional courts, in line with constitutional imperatives and values, and to provide for matters connected therewith.
The public hearings are arranged as follows:
Date

Venue

Time

Tuesday, 5 November

Thusong Centre

12th Avenue

Bonguluthu

Oudtshoorn

18:00–20:00

Wednesday, 6 November

Moffat Hall

Dahlia Street

Hermanus

18:00–20:00

Thursday, 7 November

Kathy Johnson Multipurpose Centre

Bloekom Avenue

Clanwilliam

18:00–20:00

Friday, 8 November

Chamber

Western Cape Provincial Parliament

6th floor

7 Wale Street

Cape Town

18:00–20:00
Interested persons and organisations are invited to attend and to participate in the public hearings.
Written submissions and requests to make verbal presentations on such submissions must be directed to the Standing Committee's Procedural Officer, Ms Waseemah Achmat, Tel 021 487 1657 or Email wachmat@wcpp.gov.za. Written submissions must be received by Monday, 11 November 2019.
For enquiries or copies of the bill please contact Ms Waseemah Achmat, Tel 021 487 1657 or Email wachmat@wcpp.gov.za.
For media enquiries/interviews, contact the Chairperson of the Standing Committee on Premier and Constitutional Matters, Hon Ricardo Mackenzie on Cell 078 564 5341.
The bill is available on the Western Cape Provincial Parliament's website, www.wcpp.gov.za or click here to download.
Image: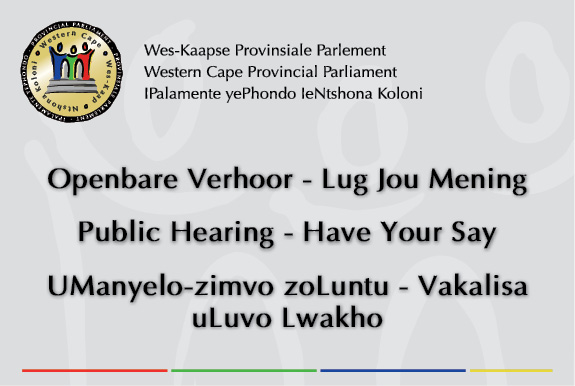 Feature on Home Page Carousel: