Standing Committee on Health encouraged by successful vaccine rollout
On Wednesday, 26 May, the Standing Committee on Health conducted unannounced oversight visits to the Mitchell's Plain, Eerste River and Nyanga COVID-vaccine centres to assess the level of care. The standing committee plans further visits to sites outside the Metro, as 51 additional sites were brought online by the provincial government this week.
"The vaccine recipients that form part of the first group of the Phase Two rollout, were very appreciative and praised staff at these centres for their professionalism and thoroughness. We found that facilities were adequately equipped and vaccine demands were met, thus encouraging residents to register to get their jabs," says Honourable Wendy Philander, Chairperson of the Standing Committee on Health.
"We know that vaccines work in reducing the spread and severity of COVID-19, and so we have to do everything possible to make sure that eligible residents are registered to receive their vaccines," added Honourable Philander.
"With the province now managing the vaccination notification system, greater clarity and reliance on information may be established among residents in the province," she says. Residents will be notified three days in advance to make the necessary arrangements in this regard.
The Western Cape Department of Health is ready to employ additional staff to support its escalation efforts.
Image: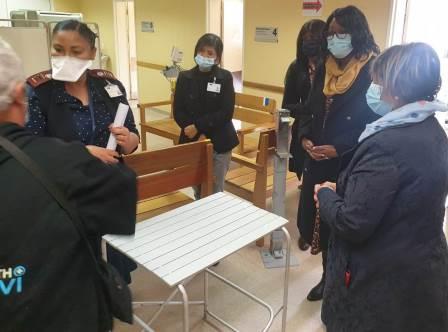 Feature on Home Page Carousel: